Thunderbolt welcomes new principal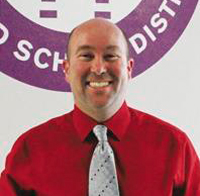 ---
A Lake Havasu City native is returning to the desert to take the helm at Thunderbolt Middle School.
At a special session meeting Wednesday night, the Lake Havasu Unified School district Governing Board unanimously approved John "Gordy" Hall as the new principal of Thunderbolt after previous principal Lindsey Bitterman took a district office position.
Hall grew up in Havasu and graduated from Lake Havasu High School. He went to college up north at Northern Arizona University where he received his bachelor's degree in business administration and master's degree in secondary education. Hall started his teaching career at Thunderbolt and also was a coach for the basketball team.
Hall made the move to Texas in 2014 where he continued to work in education, most recently being the assistant principal at Doris Miller Middle School.
When recommending Hall's approval to the position LHUSD superintendent Rebecca Stone highlighted Hall's collaborations with the community to better his school.
"In addition to his work with staff implementing strategies to improve student performance and close achievement gaps, Gordy has led teams with a variety of stakeholders to address attendance concerns, school-wide discipline, safety measures, and the return to campus during the pandemic," Stone said.
by Joey Postiglione, Today's News-Herald
Jun 23, 2021