Congratulations to Zoe Powers; October Golden Apple Award recipient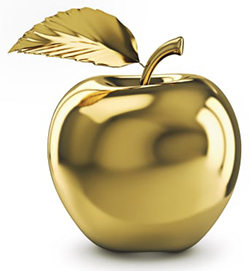 ---
The K-12 Foundation celebrated the October Sherry Dailey Golden Apple recipient - Zoe Powers!
This is what her peers shared:
Zoe is kind, compassionate, and organized. She has the kindest, calm demeanor that is just what our students need. Zoe works incredibly hard to support and serve not only our Special Education students, but ALL of our students. She is champion for students in our district and we are very fortunate to have her on our campus.
Mrs. Powers is always working hard to advocate for her students' needs; no matter what grade level she works with. She is always collaborating with her fellow teachers and other staff to ensure that those students are getting all the supports they need. She is a role model for Special Education in our district. Thank you for being amazing, Mrs. Powers.
Zoe is dedicated to all students within the school. She is patient and provides assistance for all teachers.
CONGRATULATIONS!!