Online Learners Grab and Go Meal Pickup
Grab and Go Meal Service will be available
Aug 3rd through (at least) Aug 14th

Monday through Friday
7:00 am - 8:00 am (NEW TIME)
and 10:30 am - 12:30 pm
at the LHHS football field Sports Concession Building

Breakfast and Lunch meals are available.
To ensure that students enrolled in the Lake Havasu Unified School District #1 are provided access to meals during remote learning, parents/guardians will be given the flexibility to pick up meals to take home to students without having to have the student present at the point of distribution.
Under the National School Lunch Program regulations, only enrolled students are eligible to receive meals.
Parents and Guardians must submit a registration form in order to be eligible to pick up meals without the student being present. Once registration is on file, the parent or guardian will only need to provide the student name and I.D. number for meal pick up.

Payment for meals will be in accordance with current meal eligibility status.
As a reminder, families must submit a new meal application each school year to qualify for free or reduced price meals.
To apply, please visit: Family.TitanK12.com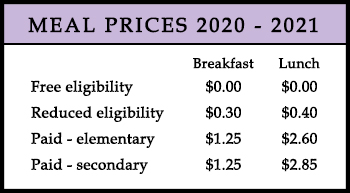 For the safety of you and our staff, NO CASH OR CREDIT CARDS will be accepted at meal pickup location. Load any additional funds onto your student's account, using the Titan Family Portal, in advance of visiting the site to receive meals.
Please contact the Child Nutrition Office at 854-5413 to discuss a cash payment option.
The District's meal charge policy will remain in effect during this time. Please refer to the LHUSD.org, Child Nutrition Department web page for more information.