Special Diet Information
We provide these menus to help you decide ahead of time if your child will purchase a meal at school or take a sack lunch from home.
Menus are subject to change without notice if circumstances beyond our control cause a last-minute substitution.
Offer vs. Serve is used in all of our cafeterias. This allows students to select from a variety of foods - meats, grains, vegetables, fruit, and milk.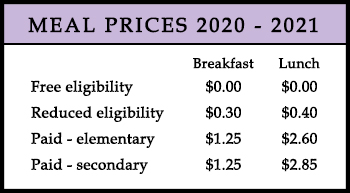 Menus
(not used for Summer meals program)
The school menus are updated in real-time.

On the menu screen, use the dropdown option (under the Menu tab) to switch between the Breakfast and Lunch menus.
Use the arrow icon at the top right of the calendar to move to next month's menu (if available).
The "print" versions below will display a PDF for the current calendar month.