Dear Parents, Staff, and Community Members,
In the almost two years I have been here in Lake Havasu, I have learned what a supportive and responsive community we are. When a need arises, the community steps up to help. This past fall, our school community was shaken by the tragic suicide of one of our high school students. While none of us want to face it, the statistics around suicide are hard to ignore.
In Arizona, suicide is the 1st leading cause of death for ages 10-14 and the 2nd leading cause of death for ages 15-34. If we all do our part, we as a community can have a positive impact on our students- ensuring that these are not our statistics! Following are some of the elements of community that can have a positive impact on youth.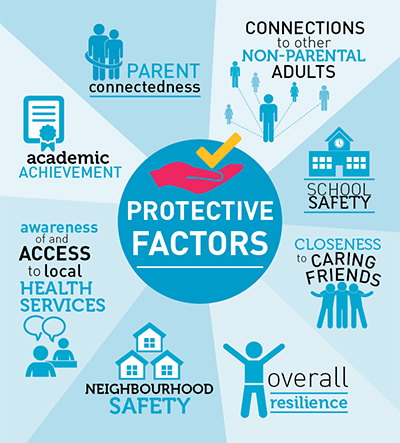 As a school district, we have been discussing how we can better serve our youth through both prevention and intervention. Having safe schools, creating an engaging classroom environment focused on meaningful learning, and ensuring we have adults on campus who care and who can make connections with our students are priorities.
This spring, we will be piloting a program at the high school that will bring additional caring adults to our campus to enhance school safety and provide non-parent contacts for students in need. I was very fortunate to have used this program at a high school while working in San Bernardino County. The program is entitled, "pastors on campus". Local volunteer clergy are trained and fingerprinted to serve as lunch supervisors. The pastors are not allowed to proselytize or evangelize. These faith-based volunteers bring some training in counseling skills and provide another set of eyes at lunch time to recognize distress signals, as well as to be an adult with whom students may voluntarily interact. They also enhance student safety by being one more adult out during the lunch times. If they see or hear of concerns, they will refer to the school counselor or administrator for follow up.
In addition to having more adults on campus during lunch, we have been working to enhance the "protective factors" for all students through staff training and by revisiting how we help our students feel connected to school. We would like to thank the Interagency Council for providing the resources for our training as well as the list of protective factors below.
Protective Factors

Individual

Involvement in social activities

High self esteem

Good coping skills and problem solving skills

Achievement motivation

Sense of humor

Sense of purpose, religiosity, or spirituality

Skills to resist negative peer influence

Close relationships with competent adults

Family

Parental involvement

Trusting relationships

Well-defined family roles and responsibilities

Positive bonding

Clear rules

Mutual involvement in activities

Strong value placed on education

Clear expectations regarding drug and alcohol use

School/Community

Strong neighborhood attachment

Appropriately high and attainable expectations

Clear standards and rules

After school activities/school and community sports

Faith based resources

Positive peer role models/social network

Participation in important tasks and decisions

Opportunity to learn to handle challenges

Society

Laws and policies limiting access to alcohol and drugs

High expectations for citizenship

Opportunities for participation

Cultural influences

Laws and ordinances strictly enforced
We would also like to thank the London Bridge Christian Churches Ministerial Association (LBCC) and Captain Stephanie Lueras from the Salvation Army for their work in recruiting, coordinating, and training our volunteers.
If you have any questions, please feel free to contact Mr. Becker at the high school (928-854-5318); Mrs. Lueras at her office (928-758-3141); or myself at the district office (928-505-6928).
Thank you for your continued support of our community and our students.
Respectfully,
Diana M. Asseier
Superintendent